Before Sesame Street and The Muppet Show, Jim Henson made short films for Big Blue. The tech may be archaic, but the entertainment is timeless.
IBM. The Muppets. Two venerable institutions-but not ones we tend to associate with each other. Yet in the late 1960s, before most people had ever seen a computer in person or could identify a Muppet on sight, the two teamed up when IBM contracted with Jim Henson for a series of short films designed to help its sales staff. Little known today, these remain fresh, funny, and surprisingly irreverent. Henson would return to their gags and situations in his famous later works–and he plucked the Cookie Monster from one of them when assembling the Muppet cast for Sesame Street in 1969.
Whose idea was this unique collaboration? Well, Henson had already established himself in the advertising field. He was best known at the time for the Muppets' guest skits on variety shows and Rowlf the Dog's appearances on The Jimmy Dean Show . But he was busier making a wide array of commercials and longer sales films for regional and national products from Esskay Meats to Marathon Gasoline.
For its own part, IBM was keenly aware that its products–including computers, electric typewriters, and very early word processors–had to be explained to both the public and IBM's own employees. So it formed its own advertising group, including a film and television division. An executive named David Lazer headed this division, overseeing the production of training and sales films.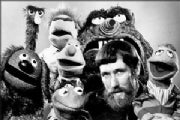 Jim Henson and friends in the 1960s.According to Henson archivist Karen Falk, the IBM films were produced between 1966 and 1976, but most of the only confirmed examples date to the 1960s, primarily 1967. Jim Henson was the primary puppeteer and director in these projects. Assisting were the Muppets Inc./Henson Inc. staffers: Frank Oz (later to play Miss Piggy, Cookie Monster, and others), writer Jerry Juhl (who co-wrote The Muppet Movie, worked on Fraggle Rock, and scripted classic Ernie and Bert sketches), and puppet builder Don Sahlin (whose credits included George Pal's Time Machine).
1967 was an interesting time for the team-up: two years before the Muppets' national prominence would rise thanks to Sesame Street, and two years after the introduction of IBM's Selectric typewriter, an electric device which was crucial in the transition from old Remington typewriters to the modern word processors which would soon make the Selectric look old-fashioned.
Short and Silly Films
The films Henson made for IBM fell into two basic classes. The first were short comedic "meeting films," which acted as icebreakers or to signal breaks in long corporate, sales, and training meetings. The second category consisted of longer industrial films which explained IBM's products, service, and approach. Though the industrials look like commercials, their purpose seems to have been to motivate IBM's sales team and/or to serve as a primer to potential corporate clients.
The meeting films were comedy bits which could have fit right in on The Muppet Show (and in fact some would be reworked and repeated on the series). Muppet trademarks, such as characters eating each other or spontaneous explosions, were already in force, as seen in a clip with two businessmen arguing.


Another features an early version of Kermit the Frog, one of only two star Muppets at the time, attempting to deliver a long speech on sales success while intimidated by a gruesome monster.


The third spot, "Coffee Break Machine," is a quintessential Muppet comedy skit (it was remade twice, for The Ed Sullivan Show and The Muppet Show). It's also the first explicit link between the meeting films and IBM's products. The premise is simple, as an elaborate talking computer device (voiced by Jim Henson) recites a laundry list of features and components all to produce a single cup of coffee. A Muppet monster, instantly recognizable as a prototype of Cookie Monster (but scruffier and with prominent teeth), enters and devours the machine piece by piece. (The monster's voraciousness would remain when Cookie showed up on Sesame Street , but a modified toothless puppet would be used instead.)
This entertaining short displays an ambivalent attitude towards technology, showing it as complicated, seemingly pointless, and likely to self-destruct. Not a message one would expect from IBM, but it shows that the company–despite its reputations as a pretty button-downed place–had a corporate ability to laugh at itself.
IBM Puts on the Dog
When it came to the actual selling of its technological products and services, IBM worked with Henson and crew to produce more sales-driven but still entertaining sales and industrial films. In an entertaining untitled ten-minute short, Rowlf the Dog (the other established star Muppet, thanks to his regular stint with Jimmy Dean) appears as a newly hired IBM salescanine, proudly writing a letter to his mother about his exploits. Rowlf displays an adeptness at the keyboard which would serve him well years later as The Muppet Show's resident pianist.



Over the course of the film (divided into parts, with typed out intertitles), Rowlf progresses from a standard typewriter to an electric IBM model to finally using a Selectric, complete with shots of the famous "golf ball" typing element, which he observes with keen interest. Comedic bits include Rowlf accidentally breaking a bottle of mimeograph ink , struggling with stairs, and a running gag where the typewriter carriage backs up and knocks over objects.
In an industry in-joke, Rowlf's sales territory is expanded to include an office building, only the camera trucks in to reveal the name "Sperry-Rand," the early IBM competitor behind the Univac. By 1967, however, the company had become embroiled in a lawsuit with Honeywell and was diminishing in importance. Still, based on his track record, sending Rowlf to sell IBM products to a competing company might be construed as an act of corporate sabotage! In addition, the acknowledgment that IBM wasn't the only fish in the pond differed from the period in the 1940s and 1950s when corporations were afraid to acknowledge competing companies (and long before the Mac/PC ads).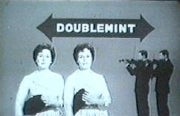 Among the other highlights are a series of amusing commercial spoofs made by Rowlf. One parodies a then-current series of Timex durability ads featuring newsman John Cameron Swayze. Another, referencing Wrigley's Doublemint Twins ads, has twin Rowlfs chanting "Double your output, double your speed! With IBM MTS MT/ST" and then typing on dual machines.The MT/ST (Magnetic Tape Selectric Typewriter) would feature far more prominently in the next film, The Paperwork Explosion.
That film –whose title was a common term in the 1960s and perceived as a side-effect of the information explosion–eschews Muppets for a more serious but still creative presentation. It's not dissimilar in its rapid cuts and use of animation to Henson's earlier, Oscar-nominated short Time Piece.
The Paperwork Explosion (made concurrently with a same-named print campaign) uses a talking heads approach, as various office workers and/or IBM employees discuss the problem and its solution. The cast consists of a mix of New York commercial and character actors, Henson Inc. employees (a young Frank Oz can be glimpsed smoking a cigarette and Henson's voice is briefly heard), and actual IBM people (including David Lazer).
The short's music was by Raymond Scott, who had worked with Henson before but is best known as the composer of that Looney Tunes staple "Powerhouse," usually played during assembly-line scenes. Scott's synthesizer score is perfectly matched to the subject matter, presenting both an insistent feel to the initial problem (businesses overwhelmed by paperwork in every facet) and then to IBM's mechanized solution.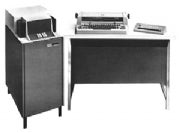 The IBM Selectric Composer, in a photo from IBMComposer.org.
The soundtrack and pace gradually slow to a more comfortable rhythm, as the previously shown office folks begin to investigate the ways IBM products can help, especially the MT/ST. IBM's print "paperwork explosion" ads described it further, as "a rather remarkable typewriter that takes a secretary's rough draft and types it back error-free at the rather remarkable rate of a page every two minutes."Also shown in the film is the IBM Selectric Composer, an advanced typesetter used to prepare copy which would be photographed for print ads and which allowed for a choice of font. Dictation machines are presented as ways to record the office staff's thoughts more efficiently than freehand transcription or the best secretary.
These products may look quaint and amusing today, but in the 1960s this was futuristic stuff. And the mantra, reiterated by the chorus of talking heads, is that IBM office equipment and other machines will help do the work, leaving people more time to think.
Forty odd years later, it's not clear that technology and our increasingly digital world have freed up time to think (though unquestionably they've given us more to think about). Outside of deeper messages, the film is very effective salesmanship and a fascinating mixture of techniques and look at the 1960s business world (or one version of it). As with his personal films, it proves Jim Henson could do more than wiggle frogs and dogs.
And Now For the Rest of the Story….
Once work had been completed on these films, Henson and IBM ended their partnership. But the collaboration's impact continued to be felt, and the relationship between the Muppets and technology continues to this day:
Once personal computers and related gadgetry entered American households, the Muppets were there. In the 1980s, for instance, there was a Muppet keyboard for IBM's infamous PC Jr and a Muppet computer literacy program for the Commodore 64. In the 1990s, there were Muppet CD-ROMs. Today, the Muppets star in several apps for the iPhone.

Writer Jerry Juhl remained with the Muppets, but he used his IBM experiences for his sole foray into adult literature, a 1968 science-fiction short story called "The Edward Salant Letters," detailing the correspondence between the owner of an IBM-like dictating typewriter (called a Phonotyper) receiving automated computer responses from the manufacturer (and thus eerily foreshadowing customer service hassles of today).
IBM film honcho David Lazer joined Henson as a full-time executive, where, among other things, he was a producer for The Muppet Show and the movies The Muppet Movie, The Great Muppet Caper, The Dark Crystal, and Labyrinth. He also worked with Jim to develop and expand the "meeting film" concept. While IBM owned the original shorts, Lazer proposed making similar films which could be marketed to any business, spoofing corporate doubletalk, workplace tedium, and hard sell exhortations. These Muppet Meeting Films began in the 1970s, were significantly promoted in 1980 when new shorts were added, and remain available.
Following Jim Henson's death in 1990, the Muppets experienced many ups and downs and been sold and resold, but they're currently enjoying a resurgence, due both to an upcoming Disney movie (The Greatest Muppet Movie Ever) and–benefiting from the computer era and the Internet–a series of clever and popular viral YouTube videos (notably an acclaimed cover of "Bohemian Rhapsody").
IBM may no longer make typewriters or word processors–or office-automation machinery of any sort–but it remains a technological giant. In a touching nod to the past (or more likely, just using a popular internet phenomenon as an example), its developerWorks page on the Lex parser uses the Swedish Chef translator (turning text into mock Swedish and adding the Muppet's trademark "Bork bork") as an example.
And Jim Henson himself? He continued to toy with computers for as long as he lived, from making "Scanimation" films for Sesame Street to hiring engineers who created some of the earliest motion-capture CGI puppetry. And after his passing, one of the most memorable tributes he received came from a computer company. No, not IBM. It was Apple that prominently featured Henson (and Kermit) among the notable minds in its famous "Think Different" campaign. Jim Henson did indeed think differently, as these early films attest.
(Andrew Leal is a freelance writer in El Paso, Texas. A lifelong Muppet fan, he serves as administrator at Muppet Wiki and contributed to the book Kermit Culture. He's also an animation historian, with selections in the books Animation Art and The Animated Movie Guide. He completed this article without the aid of an IBM Composer.)
--------------------------------------------------------------
Please login to add a comment.